About
We seek to provide high end video production to our clients all over the globe.
---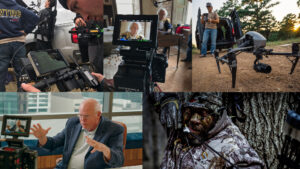 Michael Jones – Founder of Gallery Productions – is a hard working creative visionary with over two decades of hands-on-experience in the field of graphic design, photography and digital video production. MJ's roots run deep in the Retail Marketing and Advertising industries.
Joshua Helms – Co-Owner – Josh's experience in photography, editing and cinematography fuel is passion for capturing that perfect moment that can tell the story.
Now is the time to take advantage of the creative experience and attention to detail that Gallery Productions can provide your company. Go to the "source" for your creative needs instead of sinking your precious marketing dollars into High-Cost/High-Overhead Agencies.
Whether you are a startup looking to establish a new brand identity or a player who wants to defend their position in the market, Gallery is ready to build a relationship based on getting you the results you want.